Globus Connect Server v5.4 Is Now Available
July 26, 2020 | Vas Vasiliadis
The highly anticipated v5.4 of Globus Connect Server is now available. This release continues our march towards a unified Globus Connect Server v5 platform that incorporates all relevant features from prior versions.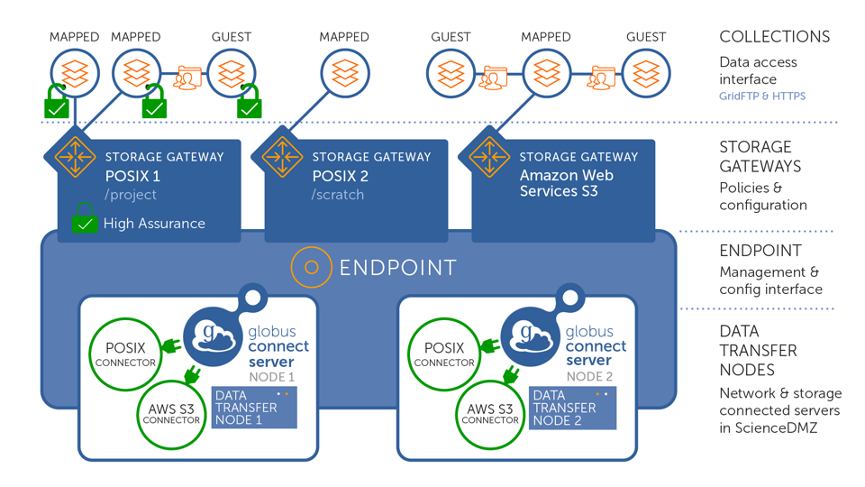 Notable new features in the latest release include:
Support for endpoint with multiple DTNs, providing greater transfer throughput and ensuring service availability in the event that a DTN fails
Access to standard and High Assurance collections on the same endpoint, controlled by user-defined policies
Feature-rich command line interface for endpoint management, making it easier to maintain DTN cluster and collection configurations
New, OAuth based access management architecture, replacing user certificates (yay!) and incorporating endpoint level user consents
Support for multiple identity domains, enabling more flexible data access policies
Configurable identity mapping system, with multiple models for mapping user identities to local system accounts
Automated migration from Globus Connect Server v5.3
Globus Connect Server v5.4 builds on many of the new enhancements we already incorporated in prior versions, including:
Connectors for a growing list of storage systems, including Google Cloud Storage, Google Drive, Spectra Logic, Box, Amazon S3, and many other S3-compatible systems
Enhanced, role based endpoint management
Guest (shared) collection root selection via browse
Management of protected data including HIPAA regulated data
Next steps
Watch a video where we walk through an installation and highlight some of the new features.
Register to attend our walk through of the new release, followed by Q&A with the Globus product team, to learn more.
Key Resources
Questions? Contact Us at outreach@globus.org
---