Users of the Month, August 2013: Brian Leu, Parth Sheth, and Albert Liu
August 19, 2013 | Laurel Wamsley
We had the pleasure of meeting this month's honored users in person at the XSEDE13 Conference in San Diego last month. Brian Leu, Parth Sheth, and Albert Liu are all undergraduates at the University of Michigan. Brian answered my questions about how they use Globus Online to manage their undergraduate research data. We couldn't be happier that Globus Online has helped them continue their research over the summer--and that they've never known the difficulties of moving research data in the pre-Globus era!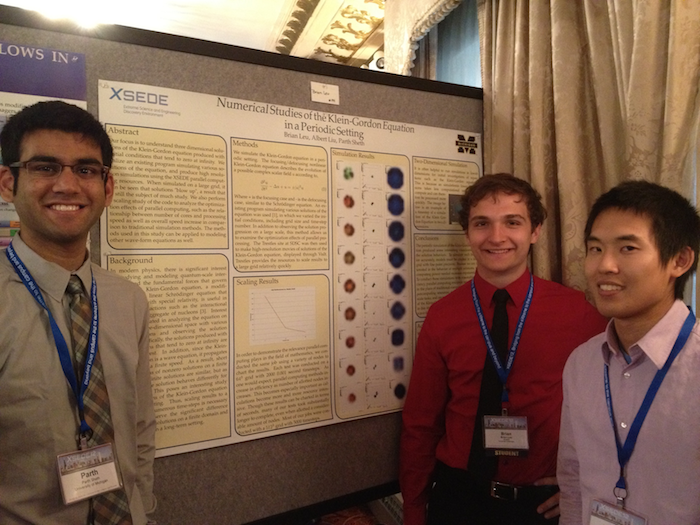 </a>
University of Michigan students (from left) Parth Sheth, Brian Leu, and Albert Liu
Globus: What kind of research are you doing?
Brian Leu: We are exploring methods for in situ visualization for use in computational fluid dynamics and similar applications. I am entering my 3rd year as an undergraduate studying electrical engineering at the University of Michigan. I am collaborating with Parth Sheth, a senior in biomedical engineering and Albert Liu, a junior in Physics and Electrical Engineering, both of whom are also from the University of Michigan.
What are your data management needs?
The datasets we are working with are roughly 8 GB at each time step. The three of us were working remotely throughout the summer (myself in an REU at Clemson University, Parth doing research in New Jersey, and Albert doing research in Michigan) with simulations/visualizations run at TACC, so we had a need to share large amounts of information over long distances.
How did you hear about Globus Online?
The three of us were in the Applied Honors Calculus 3 class of Dr. Benson Muite. His research includes study of partial differential equations and parallel spectral methods on HPC resources, so he set up an XSEDE allocation on Trestles at SDSC for us to use for a class project. The three of us continued on with the project when the class ended and he introduced us to Globus Online as a means to manage our data.
What, if anything, were you using before Globus?
We never had large amounts of data to manage before learning of Globus. It often seems that using something like scp or sftp would be adequate for simple file transfers, but from my experience so far it is almost always worthwhile to transfer data with Globus Online because of its simplicity and reliability.
How does Globus help you focus on your research?
Globus definitely saved us time and headaches this summer. Working collaboratively from remote locations didn't afford us the ability to share things over a network, but Globus allowed us to stay connected nonetheless.
Where are you moving data to and from?
Between XSEDE resources, primarily at TACC (Stampede, Ranger, Longhorn), a server at Michigan, and local machines.
Who are your collaborators?
The three of us are working with data generated by the PhD thesis work of Pooya Movahed, as a part of Dr. Eric Johnsen's Computational Flow Physics Laboratory at the University of Michigan.
Anything else?
As an undergraduate, one of the most frustrating aspects of the HPC world is resolving software dependencies and trying to get something to work in a new environment. This is never an issue with Globus Online because of its existence on the cloud and how easy it is to set up a new endpoint even for someone new to HPC.
Would you recommend Globus to others?
Of course! The three of us are huge fans of Globus Online because of how well it balances power and user-friendliness. Globus has been able to do everything we have asked it to do with little to no effort on our part, even from day one as a sophomore undergraduate student. We never hesitate to share our experience with Globus to others. I believe Parth even currently has a Globus sticker on his laptop.
---